This page was last updated on April 05, 2003 07:25 PM

The following comments and review are one of the best things I've ever read regarding this film. They were submitted by a visitor to this site who is also a fan of Blood of Dracula's Castle. With his permission, they are reproduced here. Please, do NOT use them for your site without emailing the author of this review and asking him first (since he wrote these comments).
(Guestbook Entry)
Wonderful! I have been an Al Adamson fan ever since I saw the Crown-International double bill of BLOOD OF DRACULA'S CASTLE and NIGHTMARE IN WAX at a real, honest-to-gosh Drive-In Theater (in Southern California!) when I was a kid. Never got over it. Later I saw DRACULA VS. FRANKENSTEIN on an early TV showing. What a shock! Poor Lon! Al had to be some kind of genius to turn out a Bad Movie aesthetic with such consistency. Move over, Ed!

(Email response)
BLOOD OF DRACULA'S CASTLE in a Southern California Drive-In in 1971 was an incredible experience. I went with my Dad, who thought it was crap (he was expecting the Hammer finesse), but I was wide open. We ate take-out Mexican food and I had a great time.

Today I don't watch BLOOD OF DRACULA'S CASTLE as a Bad Movie but more as nostalgia. In spite of the cheese-and-sleaze factor the film has a certain old-fashioned quality which I like. Adamson was trying to evoke the Universal classics in cardboard. I think there are far worse films and certainly Adamson himself made worse later.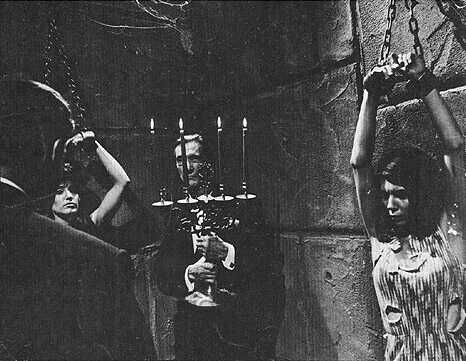 The story seems inspired by Hammer's DRACULA: PRINCE OF DARKNESS. Young people staying in old castle. George/Klove. Etc. I also have come to regard BLOOD OF DRACULA'S CASTLE as the seminal film in what David Pirie and other historians have called "The Southern California Vampire Film." Another early example of this sub-genre was Jack Hill and Stephanie Rothman's BLOOD BATH/TRACK OF THE VAMPIRE (1966). As you know, this type of low-budget contemporary gothic peaked in the early 1970's with COUNT YORGA VAMPIRE, THE RETURN OF COUNT YORGA, THE VELVET VAMPIRE (also shot in the desert), BLACULA and SCREAM BLACULA SCREAM, petering out with THE DEATHMASTER and others. I am convinced that BODC is the prototype of the Yorga films in particular and that Mango and Brudah are buddies.

I think BODC is much better than BLOOD OF GHASTLY HORROR or VAMPIRE MEN OF THE LOST PLANET and infinitely better than my second favorite Al Adamson film, DRACULA VS. FRANKENSTEIN. Like its co-feature NIGHTMARE IN WAX, it almost passes as a real movie. This may be why viewers to come to ridicule don't have as much fun here. There's the barest veneer of professionalism. Paula Raymond is good, and you're right about Robert Dix, who stands out strikingly. (Dix was awful in Richard Cunha's FRANKENSTEIN'S DAUGHTER, another favorite and the first monster movie I ever saw). As for John Carradine, who's in good form: to this day I can't understand why Adamson didn't dump smarmy Alex D'Arcy early on. A quick rewrite could easily have combined Dracula and George the Butler into one character. I guess that was just Al's way. I think the virgin sacrifice to the Great God Luna is an effective (even poignant) Gothic setpiece. I also think the weird library music's cool, but you're right, "Next Train Out" has got to go.

Maybe Carradine didn't think much of the film and resented being cast as the butler. Maybe he didn't get along with Al. That would explain his conspicuous absence from DRACULA VS. FRANKENSTEIN even though VAMPIRE GIRLS and NOCTURNA suggest that Long John would whore out Dracula for the right price. (Don't get me started about BILLY THE KID VS. DRACULA which I think is a charming little B-Western for kiddie matinees.) I just can't buy Sam Sherman's line that Adamson didn't think Carradine was right for the part. The man may have been a poor filmmaker but he can't have been THAT dumb. Of course, the unctuous Zandor Vorkov is probably the whole show for fans who see the film as a comedy. Me, I'm weird enough to watch these and and all of Al's horror films with a deep and serious fascination. It really is beyond belief.

I'm not much of a Psychotronic person but I've been inwardly championing Al Adamson since long before the Ed Wood craze and I'm thrilled that he's finally getting his due. I'm only sorry that this celebration had to be kicked off by his death. In the bizarre way of Hollywood Babylon, his murder will bring him immortality.

Thanks for putting up such a splendid site.