Notable Artists: Al Adamson Poster Artwork
Each artist also has a couple of examples of his non-Adamson work represented for
a comparison of the style of artwork.
Information on the posters and artwork kindly provided by Insight Studios Group and
by Sam Sherman. Used here with permission. (Info at bottom of page)
---
Gray Morrow
Blazing Stewardesses, Blood of Ghastly Horror, Brain of Blood, Cinderella 2000, Dracula vs. Frankenstein, Nurse Sherri
BRAIN OF BLOOD (poster + closeup)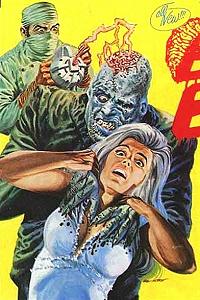 (the Vampire People portion was not done by Morrow)
CINDERELLA 2000
combination of two pieces of Gray Morrow artwork

Space Mission to the Lost Planet
(alternate release title for Horror of the Blood Monsters)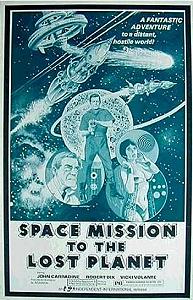 (Note: I believe this is Morrow's work...the signature appears to be his, but I can't confirm it.
If anyone is positive this is Gray Morrow's work, email me)
NURSE SHERRI (poster + closeup)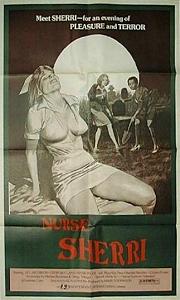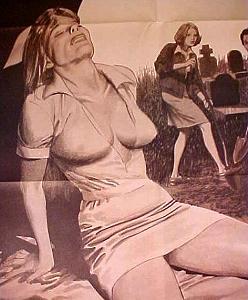 Dracula Vs. Frankenstein (2 styles)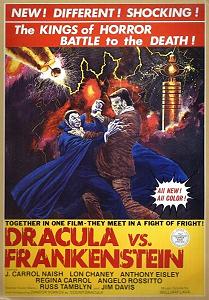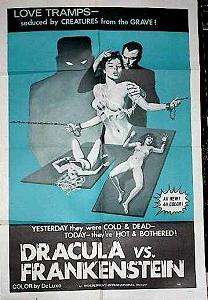 Style A poster on the left done from a black & white painting
and photostat-colored by Gray Morrow
Artwork from the Style B poster,
altered by Gray after it was returned to him
(courtesy of Insight Studios Group)


(compare with the poster itself to see how it was altered afterwards)
Gray Morrow pages at Insight Studios Group website
Non-Al Adamson posters
Five Million Years to Earth (aka Quatermass and The Pit)

---
Neal Adams
Horror of the Blood Monsters
Poster, and closeup of the same artwork used on the video box,
photostat-colored by Gray Morrow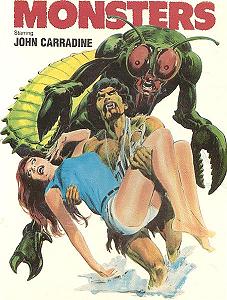 Non-Al Adamson posters
Count Dracula and His Vampire Bride
(aka The Satanic Rites of Dracula)

GRIZZLY
GRIZZLY poster and soundtrack album, utilizing the same artwork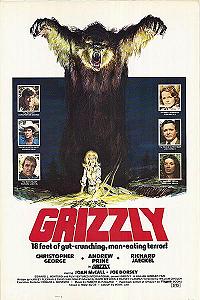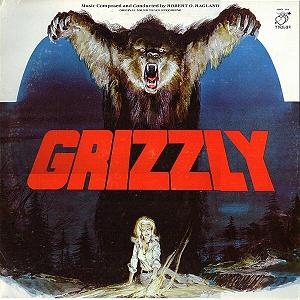 ---
Information graciously provided by Sam Sherman
Subj: Re: Poster artwork for Adamson films
Date: 2/3/02 1:54:38 AM EST
from: (Sam Sherman) 2-2-02
Greg,
Here are the artists as requested:
DRACULA VS. FRANKENSTEIN - Gray Morrow - did about 100 pieces of artwork for ads and posters at IIP. Big book just written on him.
He recently passed away. Was a good friend.
HORROR OF THE BLOOD MONSTERS - Neil Adams - a top artist.
BLOOD OF DRACULA'S CASTLE - Don't know had nothing to do with advertising.
Hope that helps.
Best, Sam

Subj: Re: Poster artwork for Adamson films
(Blood of Ghastly Horror, Brain of Blood, and Cinderella 2000)
Date: 2/3/02 2:17:56 AM EST
from: (Sam Sherman) 2-3-02
Greg,
All of those campaigns were by Gray Morrow.
He also did BLAZING STEWARDESSES, NURSE SHERRI and many others - as he had great range.
Best, Sam
---
Information graciously provided by Insight Studios Group
Subj: Re: Gray Morrow and Dracula Vs. Frankenstein art
Date: 2/5/02 10:15:46 AM Eastern Standard Time
Hey Greg,
All the art on your web page is by Gray Morrow -- but --

Much of the printed art was "touched up" or altered by other artists.
When we went through Sam's files looking for the art we found many versions of images, some with very obvious changes. I'm working from memory here, but I think that the Cinderella 2000 poster on your page is a combination of two originals by Gray (the background is one and the girl in the bubble is another).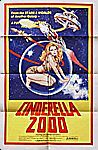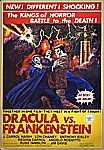 The "color" Frankenstein VS Dracula monster fight is a black and white painting that was tinted into color on a photostat - but I think Gray mentioned that he had done the color himself.
The painting from the ISG website is an altered version of the art that Gray did AFTER the art was returned to him - it was never used for the movies or was it intended for such use. Gray did it for his own amusement and portfolio. I expect that Gray was creating a sample for the paperback book publishers of gothic romance stories. In fact, Sam expressed frustration that Gray would change any of the art when he got it back. He seemed to feel that such an act was a violation of their collaboration in the creation of the images. Gray, of course, was just bringing the art closer to the images he had seen in his imagination.
Fortunately Sam was so good at keeping records and proofs and film of the art for the movies. His collection was a big help to us in putting together the GRAY MORROW VISIONARY book. But the altered painting came from Gray's own files.
--
Have Fun!
http://www.InsightStudiosGroup.com
Date: 2/5/02 11:43:52 AM Eastern Standard Time
I noticed the Neal Adams art lower on the page after I wrote - the color version of Neal's art (the enlarged portion) was another tinted photostat, colored by Gray Morrow.
---