This page was last updated on September 05, 2002 05:03 PM
This page is graphics heavy...please be patient while it loads!
Blood of Dracula's Castle ©Crown International Pictures Inc.
The Pressbook
Note: This page is being worked on and is not complete....check back for updates
Pressbook for two Crown-International films. The double feature release was publicized as
"Super HORRORrama", and included the films "Nightmare In Wax" and Blood of Dracula's Castle".
Only the material pertaining to "Blood of Dracula's Castle" is covered here. Text-only material is
reproduced here as it was in the pressbook, rather than displaying scans of that material.
The text is reproduced as it is in the pressbook.....typos, misspellings, misquotes and all.
Although the column widths are not the same as seen here, the paragraph breaks are.
(Front of the pressbook)

(Inside of the pressbook...click to view a larger version)


Page 2 (inside front cover)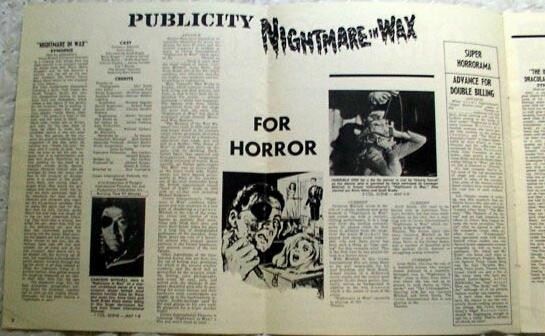 From page 2 (inside front cover)
SUPER
HORRORAMA
ADVANCE FOR
DOUBLE BILLING
Advance
When Crown International's "Super Horror-rama" opens at the ........................ Theatre on .................., audiences will find their blood running cold and the hackles rising on the backs of their necks! "Nightmare in Wax" stars Cameron Mitchell as a fiendish madman who turns people into zombies in his torture chamber, and "The Blood of Dracula's Castle" is sipped diabolically by Alex D'Arcy as Count Dracula and his coffin-mate as portrayed by Paula Raymond while John Carradine as their butler, slips quietly in and out. Anne Helm and Scott Brady share stellar billing in "Wax" and Robert Dix is featured in "Dracula."
It's fast company they're in, for some of the top personalities of stage and screen have appeared in tales of the macabre. Also, some of the literary world's finest writers have contributed to the vast lore of such enchantment.
Lon Chaney, master of make-up, was this country's first authentic horror-film star and a superb actor whose films included "London After Dark," "The Monster," "The Phantom of the Opera" and set high standards for others to follow. Bela Lugosi became the most persistent "Dracula" after he starred in 1930 as the monstrous Count, while another Count -- "Frankenstein" was associated most with Boris Karloff whose sunken eyes and charnel-house appearance aroused sympathy as well as terror in audiences. "Dr. Jekyll and Mr. Hyde" can boast such stars as John Barrymore, Frederic March, and Spencer Tracy. Claude Rains was the first "Invisible Man," while Peter Lorre, Vincent Price, Lionel Atwill are just a few of the many stars who have portrayed horror-figures. Alfred Hitchcock's two "true" horror films are "The Birds" and "Psycho" although all of his pictures feature murder and suspense.
It isn't often that audiences have the chance to see two completely blood-curdling pictures at one sitting. But Crown International's Super Horror-rama should be frightening enough to last for a while! They're all-new, all-shock, all color!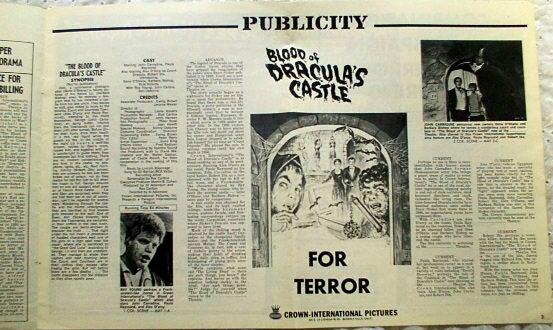 "THE BLOOD OF DRACULA'S CASTLE"
SYNOPSIS
(Not for publication)
Glen, a commercial photographer (Gene O'Shane) is taking pictures of his fiance Liz (Barbara Bishop) when he receives a telegram that he has inherited a castle from his late uncle. They decide to visit, give notice to move the tenants, Count and Countess Townsend (Alex D'arcy and Paula Raymond), intending to live there themselves. George (John Carradine), an aging butler, informs them the Townsends can not join them until after sunset. Before dinner their hosts drink their health in a rich, red liquid while the guests sip tea. In the middle of the night Liz hears a wolf-like scream, rushes to Glen's room, rouses him, and together with only candle-light to guide them, they investigate but find nothing. There are no modern conveniences of any kind in the castle, no telephone, lights, etc., etc. Next morning Johnny (Robert Dix) arrives; they are unaware he has just been bribed out of prison, nor do they realize he has the lust to kill when the moon is full. George assures him no one will suspect what goes on at Falcon Rock Castle...Liz and Glen are surprised when they are told their car is out of comission, can't be repaired for sveeral days. Wandering through the castle and the rooms underground, they are horrified to find several girls chained to the wall. One of them, Ann (Vicki Volante) tells them the Townsends are vampires, in their coffins in the next room. The couple are terror-stricken to discover the truth...That night under the full moon a procession of hooded characters lead one of the girls to a high spot near the ocean, where she is sacrificed to "the Great God Luna" according to George. Liz and Gen are undetected. They manage to elude their captors and next morning when the Count and Countess are in their coffins they escape after freeing the girls. But not before there are a few deaths...The castle disappears into the distance as they drive rapidly away.
CAST
Starring John Carradine, Paula Raymond
Also starring Alex D'Arcy as Count Dracula, Robert Dix
Introducing Gene O'Shane, Barbara Bishop, Vicki Volante
With Ray Young, John Cardos, Ken Osborne
CREDITS
Associate Producers ..Ewing Brown, Jerome Wexler
Director of Photography ...Leslie Kovacs
Production Manager ...Bud Cardos
Production Sound ...Jerry Hansen
Still Photography ...Peter Sorel
Makeup ...Jean Hewitt
Special Makeup ...Kenny Osborne
Costume Coordination ...Shannon
Supervising Editor ...Ewing Brown
Film Editor ...Peter Perry
Script Supervisor ...Joyce King
Effects Editor ...Fred Badiyan
Sound Recording by Spectra Sound
The Producers wish to thank Marineland and Mr. Walter Gaynor, owner of Castle Ranch, for their cooperation in the making of this film.
Music by Lincoln Mayorage
Sung by Gil Bernal, RCA Victor Recording Artist
Screenplay by Rex Carlton
Executive Producer Martin B. Cohen
Produced by Al Adamson and Rex Carlton
Directed by Al Adamson
Crown International Pictures, Inc.
Presents a Paragon International Picture
Running Time 84 Minutes
ADVANCE
The legend of Dracula is one of the Gothic terror stories that have gripped the imagination of the public since Bram Stoker published it in 1896. You'll see a new version when Crown International's "The Blood of Dracula's Castle" opens at..........Theatre on..........
The story actually began as a nightmare for Stoker and set him on a quest for authenticity. He found out that there was a real-life Dracula, a petty politician in the fifteenth century, a man so surpassingly cruel that he became a hideous legend. European director F.W. Murnau made it into a silent movie in 1922 under another title. In the 1930 version Lon Chaney was to have played the title role but death cut short his career and Hungarian actor Bela Lugosi stepped in to establish himself for all time as "Count Dracula." He Played the role in various versions until his own death in 1956.
Crown International's "The Blood of Dracula's Castle" is as blood-curdling as any of its predecessors. Starring Alex D'arcy as the count, Paula Raymond as his countess, John Carradine as the loyal butler, Robert Dix as a man obsessed with the lust to kill at full moon, and a Frankenstein-like character played by Ray Young, the young couple who inherit the ancient castle -- Gene O'Shane and Barbara Bishop -- seem pale by comparison.
A real castle was obtained for the film, and its high vaulted ceilings, tomb-like basement rooms, austere facade, and foreboding surroundings conjure up the misty Carpathian mountains where Stoker's Dracula was supposed to have lived.
Much of the chilling mood is obtained by the castle itself, Carradine as the obsequious family butler, and the Frankensteinish servant, Mango. The Count and Countess do, in fact, add a note of diabolic gaiety to the action, making their habit of drinking blood, daily sleep in coffins, and kidnapping of young girls semm all the more sinister.
"We're vampires, what some call 'The Living Dead' -- there are such things, you know," she explains. And leaves us with the question lurking darkly in the mind: "Are such things possible?" Judge for yourself when "The Blood of Dracula's Castle" comes to the .......... Theatre.
CURRENT
Perhaps no one in films is more identifiable with horror stories than John Carradine, former Shakespearean actor who brings a gaunt sense of reality to every role he plays. In Crown International's "The Blood of Dracula's Castle" he is one of the most sinister ingredients, slipping quietly in and out of dark corridors, dank basement chambers, and stark, cathedral like living room. The time-honored Dracula stories have haunted audiences since author Bram Stoker first wrote them in 1896, no supernatural yarns have surpassed them.
With Carradine are Alex D'arcy as the count, Paula Raymond as the countess, Robert Dix as an obsessed killer, and Gene O'Shane and Barbara Bishop as a young couple who have inherited the castle.
The film currently is screening at the .......... Theatre.
CURRENT
Paula Raymond, who started her professional career as a model, but went on to appear in a variety of roles including "Devil's Doorway," portrays the role of the Countess in "The Blood of Dracula's Castle" now showing at the .......... Theatre. The Crown Internationsl film also stars ALex D'arcy, John Carradine, and Robert Dix.
CURRENT
Alex D'arcy, veteran Egyptian actor who has made a specialty of playin men of many nations, has been known chiefly for his light comedy roles but in "The Blood of Dracula's Castle" has a role that is sinister in the extreme. As the dreaded count, his "light" approach makes the action seem even more menacing. Paula Raymond, John Carradine, Robert Dix, Glen O'Shane, and Barbara Bishop also star in this recreation of the famed Bram Stoker character.
The Crown International picture currently may be seen at the .......... Theatre.
CURRENT
Robert Dix portrays a maniacal killer, doomed by the moon with the lust for blood, in Crown International's "The Blood of Dracula's Castle" now playing at the .......... Theatre. Dix is the son of the late, famed rugged star Richard Dix, who occupied a stellar place in Hollywood films.
WIth the young actor are Alex D'arcy, Paula Raymond, John Carradine, Gene O'Shane, and Barbara Bishop. The time the action has been transferred from its Transylvanian locale to this country, but the ominous overtones are just as chilling.
(Back side of the pressbook)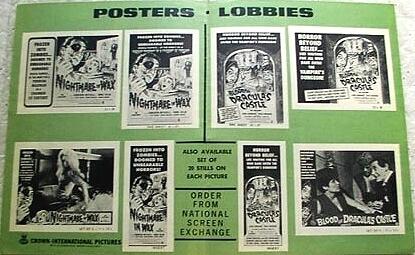 GO BACK TO THE Blood of Dracula's Castle INDEX PAGE